To avoid serious injury and ensure best result for your tapping operation, Please Read Carefully All operator and safety instructions provided for your tapping attachment as well as all other safety instructions that are applicable, especially those for your machine tool.

1. Proper Clothing:
The rotating spindle of a machine tool can snag loose fitting clothing, jewelry or long hair.
Never
wear jewelry, long sleeves, neckties, gloves or anything else that could become caught when operating a machine tool. Long hair must be restrained or netted to prevent it from becoming entangled in rotating spindle. Steel toed boots should also be worn in any machine environment.

2. Proper Eye Protection:
Always wear safety glasses with side shields to protect your eyes from flying particles.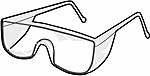 3. Proper Work Piece Fixturing:
Never hold the work piece or the vise it is held in, by hand. The work piece must be clamped firmly to the table of the machine so that it cannot move, rotate or lift.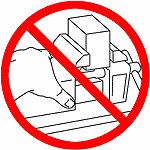 4.
Proper Stop Arm / Torque Bar Installation
For Self-Reversing Attachments On Conventional Machines: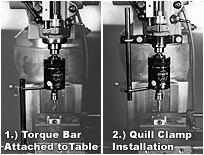 Quill Clamp
Max Tap
Capacity
Order #
Size
1 1/2" - 2 3/8"
29099
1/2"
2 3/8" - 4 1/2"
290991
3/4"
Torque Bar
Max Tap
Assembly
Order #
Size
Table Mount
29097
3/4"
Heavy Duty
Table Mount
29096
1 3/4"

Never
extend the length of the standard stop arm supplied with your tapping attachment. A lengthened stop arm could break free, hitting the operator and causing serious injury.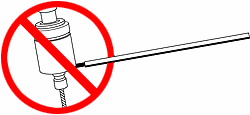 Never
hold the stop arm by hand. On reversal, full power of the machine is transmitted through the stop arm and the operator could be seriously injured.


Always
mount a torque bar to hold the tapping attachment's stop arm from rotating. The torque bar
must
be mounted securely to the table or quill of your machine. The torque bar installation
must
be stronger than the largest tap in the capacity range of your tapping attachment.

7. Continuous High Production Manual Tapping:
Models for use on conventional drill press or milling machines. Speed is a critical factor in tapping. Please always refer to recommended tapping speed chart. Tapmatic Torque Control Reversing Tapping Attachments employ a planetary gear reversing mechanism that increases speed by a 1.75 x 1 ratio. This means that a machine speed of 2,000 RPM results in a reversing speed of 3,500 RPM. It is strongly recommended that you consider the
AVERAGE TAPPING SPEED
rather than machine speed when calculating your cycle time. For example, if machine speed is 1,500 RPM, reverse speed is 2,625 RPM, making your
AVERAGE TAPPING SPEED 2,062 RPM
.
You must not exceed the maximum allowable speed marked on your tapping attachment.

8. On Machining Centers:
The same rule for installation applies whether using the torque bar holder assembly with stop arm, torque bar cup assembly or stop block assembly. "
Always
be sure that the installation is stronger than the largest tap being used."


9. Always Be Aware Of The Potential Hazards Of A Machining Operation:
Sometimes working with your machine can seem routine. You may find that you are no longer concentrating on the operation. A feeling of false security can lead to serious injury.
Always
be alert to the dangers of the machines with which you work.
Always
keep hands. Body parts, clothing, jewelry and hair out of the areas of operation, when the machine spindle is rotating. Areas of operation include the immediate point of machining and all transmission components including the tapping attachment. Never bring your hand, other body parts or anything attached to your body into any of these areas until the machine spindle is completely stopped.

10.
The tapping attachment housing, drive spindle and tap itself can become hot to the touch after operation. Use caution when removing the attachment from the machine of handling.

11.
Be aware of any other applicable safety instructions requirements.
Check List For Good Tapping:
Never use the tapping unit before reading all safety instructions for it as well as those for the machine it is to be used on.
Is tap sharp and of correct design for current job?
Is tap in proper alignment with drilled hole?
Is machine speed correct?
Is machine feed correct?
Is machine stop set properly so tap releases in neutral rather than bottoming in work piece or fixture?
Is work piece held rigidly against rotation and upward movement?
Is clearance between the drilled hole and tap sufficient at start position to allow the tap to clear the hole upon retraction?
Is the stop arm of the tapping attachment held rigidly against rotation by the torque bar extending from the machine?
References for this Safety Information include but are not limited to:

American National Standards Institute
ANSI B11.8-1983 (Adopted May 31, 1983 by Department of Defense)

Coastal Video Communications Corporation
Machine Guarding Copyright 1994

Society Of Manufacturing Engineers
Tool and Manufacturing Engineers Handbook Volume 1 Machining
(Library of Congress Catalog No. 82-060312)